You can Schedule an appointment online!
Open Weekdays from 8am-5pm
Modesto Office (Main Location)121 E. Orangeburg Ave. Suite 10, Modesto CA 95350
Stockton Office343 E. Main Street, Suite 310, Stockton CA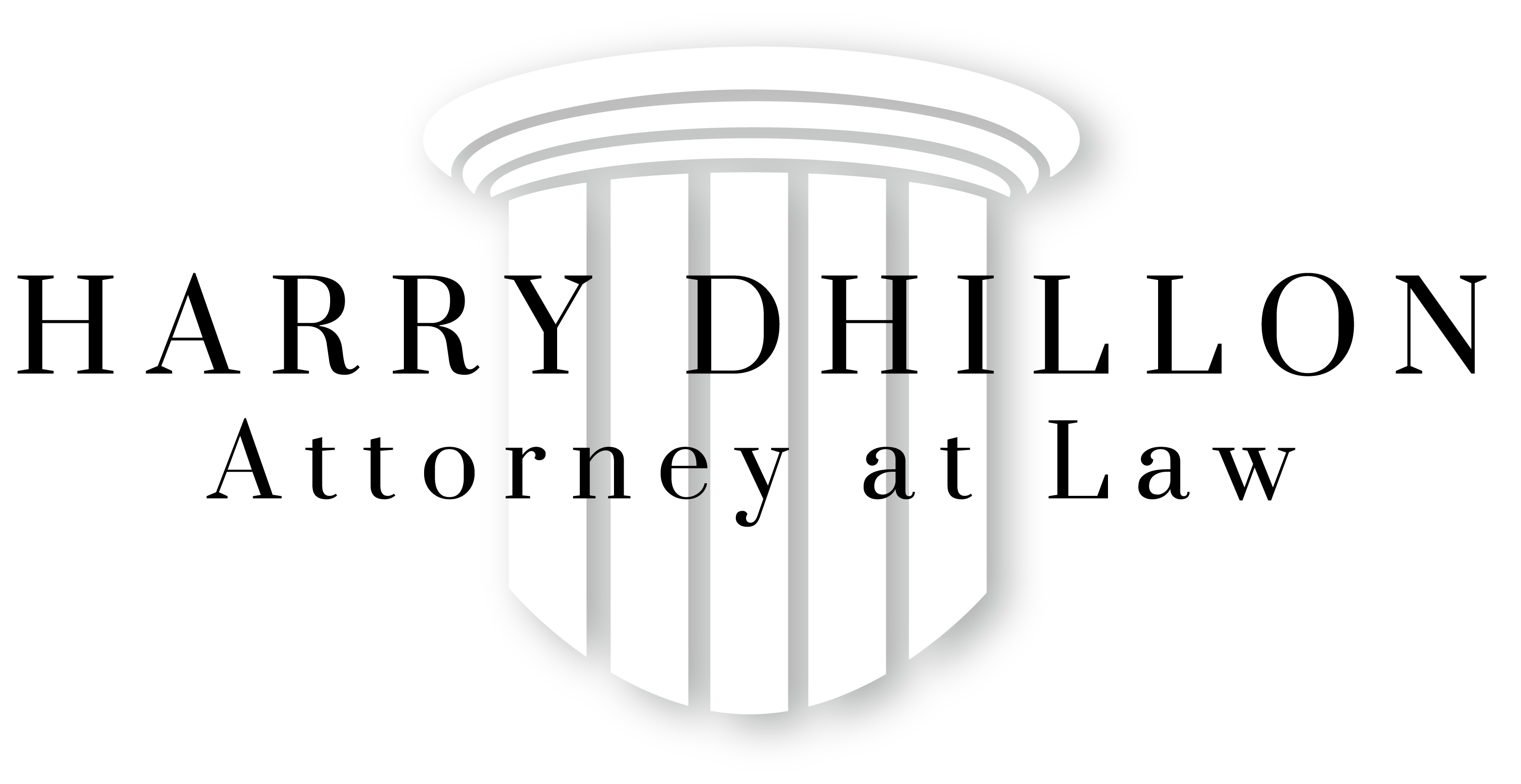 You can Now Schedule appointments online!
Schedule a meeting
by phone or online
Open Weekdays from 8am-5pm
Modesto Office (Main Location)
121 E. Orangeburg Ave. Suite 10, Modesto CA 95350
Stockton Office343 E. Main Street, Suite 310, Stockton CA
About our Attorney
Harry Dhillon, esq.
Mr. Dhillon is a native of the region having completed both his primary and secondary education in the area before going on to complete his Juris Doctorate and open his law practice here in Central Modesto. Our offices now serve clients from not only Modesto, Stockton and their surrounding cities, but throughout the San Francisco Bay Area and the greater Los Angeles area as well.  Harry and his team are committed to providing the best possible legal advice, defense, and assistance to every client they take on.
Aggressive, Proactive Legal Representation!
We provide personalized professional legal representation, and legal services across a number of areas of practice. From the initial consultation our goal is to streamline the legal process and deliver resolution of your case as quickly as possible.
Immigration
Our law offices provide Immigration Law assistance for Non-Immigrant Visas, Family-Based Immigration, Employment-Based Immigration, Deportation Defenses, Passport Applications, Citizenship and more. We can also provide counsel and advice regarding unlawful presence, prior deportations, or criminal offenses. We encourage you to call our office and find out how we can help.
Bankruptcy
If you're in serious debt and can't keep up with your bills, Chapter 7 and 13 bankruptcy are the two most common programs for reducing, reorganizing, or eliminating debt. Chapter 7 bankruptcy discharges qualifying debts whereas Chapter 13 allows those with enough income to still pay back their debts but at a reduced amount. If you are facing bankruptcy the process can be intimidating but our office can help you complete the filing process and continue represent and advise you during your day in court.
Family Law
DIVORCE requires a case be filed with the Superior Court, which may then be resolved through either a settlement or a trial. In California approximately 95% of all divorce cases are resolved through settlement, with only about 5% actually going to trial.
RESTRAINING ORDERS are a court-issued order to protect a person from physical pain or injury, or the threat of pain, injury or abuse against anyone who is threatening your safety or the safety of others. Understanding the different types of restraining orders and how the court handles these cases is important to filing a successful order. Our office can help.
D.U.I. Defense
Being charged with Driving Under the Influence, or Drunk Driving is a serious offense and you could face driver's license revocation or suspension, heavy fines, or even jail time. If you have been charged with driving under the influence of drugs or alcohol, protect your rights and call us a soon as possible.
When the marriage ends: The goal of the dissolution process is to end the marriage and decide issues such as child custody, visitation, child support, spousal support and division of assets and debts. Residency requirements: To file for...
On November 14, 2020 Judge Nicholas George Garaufis of the U.S. District for the Eastern District of New York issued an opinion regarding the July 28th, 2020 memorandum signed by Acting Secretary Chad F. Wolf. On December 4, 2020 Judge...
In Chapter 13 bankruptcy, the trustee does not sell your property and assets to repay your creditors. Rather, you use a portion of your income to pay some or all of what you owe to your creditors over time. The following are reasons to...
In Chapter 7 bankruptcy, you must fully disclose your property, debts, and financial activities over the past several years. Approximately three months later you receive a discharge (cancellation) of most types of debts and you will...
Convenient locations in both Modesto & stockton
Trusted Throughout The Valley
shetanjatt22
Mr. Harry Dhillon is one of the best lawyers in Modesto! He helped me with my relative's case regarding immigration. Overall, it was a a complete success. Without, Mr. Dhillon's help, I would never have imagined winning our case. He is very smart, intelligent, and goes out of his way to help in any way possible. The office staff is also polite and helps answers all questions that you or your family may have…
Harmandeep Gill
I'm so grateful that a friend recommended Harry Dhillon's services for a family I am helping out. He was very empathetic to their situation and gave them a very reasonable price to work with. He was very good at communicating all developments in the case with us and also fighting to make the process as smooth and easy as possible without costing them a fortune…
Manvir J.
Mr. Dhillon is clearly one of the best attorneys in the field of immigration law, based on our experience. We (my spouse and I) recently got our Green cards approved with Mr. Dhillon's office representing us. After being stuck in the black hole of immigration backlog for many years, we had almost given up hope for any resolution soon, until we got in touch with Mr. Dhillon…
Gurp B.
Mr. Dhillon was extremely helpful and diligent. He represented me for an administrative proceeding in San Francisco. He resolved my case in a timely manner and I was very pleased by his professionalism. He was honest and upfront from the beginning regarding my options. He is also very approachable and easy to talk to. I will keep him in mind if I ever need legal representation in the future…
Specialized Immigration Services We Provide
Ready to Help in Spanish, Hindi, or Punjabi!
Common Immigration Applications
Marriage Visas
We've helped numerous individual complete their marriage green card application in a timely manner and with peace of mind. Our experienced legal team guides you in assembling and completing the necessary forms and in submitting the required supporting documentation that you'll need to successfully complete your application and file it with the U.S. government.
Green Cards
A Green Card is officially known as a "Permanent Resident Card" and allows you to live and work permanently in the United States. The steps you must take to apply for a Green Card will vary depending on your individual situation. Our expert legal team can help you navigate this complicated process quickly and complete you application quickly and accurately.
DACA
On June 15, 2012 it was announced that certain people who came to the United States as children and meet several guidelines may request consideration of deferred action for a period of two years, subject to renewal. They are also eligible for work authorization. Our knowledge and experienced team can help you complete the application process with confidence.
H-1B
The H-1B program allows employers to temporarily employ foreign workers in the U.S. on a nonimmigrant basis in specialty occupations or as fashion models of distinguished merit and ability. A specialty occupation requires the theoretical and practical application of a body of specialized knowledge and a bachelor's degree or the equivalent in the specific specialty (e.g., sciences, medicine, health care, education, biotechnology, and business specialties, etc.)
If you are in need of legal help we encourage you to call or schedule an appointment online. If you're situation require immediate assistance same day appointment may be available, please call our office to inquire.
Open Weekdays from 8am-5pm
Modesto Office (Main Location)121 E. Orangeburg Ave. Suite 10, Modesto CA 95350
Stockton Office343 E. Main Street, Suite 310, Stockton CA